Lagostina is an Italian brand that has been around for more than a century. Today, it is still a premium cookware brand and its pots and pans do not come cheap. It has a few product lines to offer customers and below are 2 Lagostina cookware reviews that feature its more popular sets. The Lagostina Axia and Martellata have different price points although both are stainless steel cookware. So, let's explore a little bit more on these 2 sets below.
Lagostina Axia Review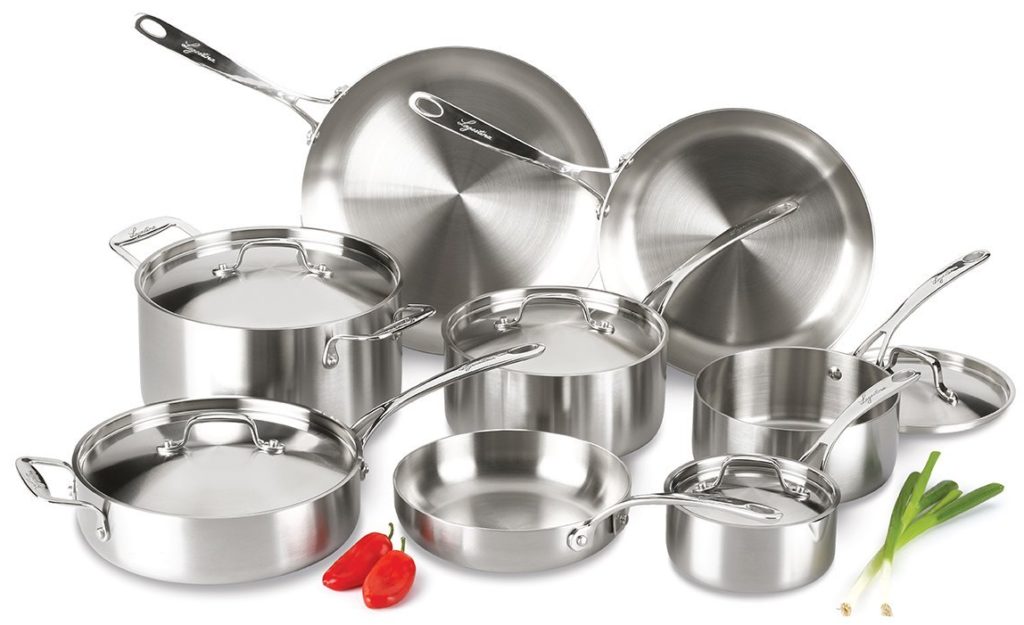 The Lagostina Axia is a tri-ply 18/10 stainless steel cookware. It has a thick heat radiating aluminum core that is built in between a 18/10 satin finished stainless steel interior and brushed stainless exterior. Shown above is the 13-piece Lagostina Axia with the following items:
8-inch skillet
10-inch skillet
12-inch skillet
1-quart saucepan with lid
2-quart saucepan with lid
3-quart saucepan with lid
3-quart deep sauté pan with lid
6-quart stockpot with lid
==> Check Price
The highest grade stainless steel interior ensures no reaction with food to maintain the flavor of what you are cooking. The aluminum core radiates heat and distributes it evenly across the pan with the tri-ply construction.
The lids are also stainless steel while the handles stay cool on the stove. The handles are cast stainless steel and riveted to the pots and pans. With the magnetic stainless steel exterior, the Axia is induction ready. It is also oven and dishwasher safe.
The Pros And Cons Of Lagostina Axia
The Lagostina Axia has some good things going for it:
Competitive pricing – At the time of writing, the price of the Lagostina Axia is even cheaper than the Duxtop Tri-Ply with its greater number of pieces. It also costs less than the Cuisinart Multiclad Pro which is another popular tri-ply cookware. While it isn't cheap, neither is it highly priced like All Clad cookware. However, bear in mind that the price do fluctuate and it can swing pretty wildly at times.
Cooks evenly – The heat distribution is good with food being cooked and browned quite evenly across the pan.
Well made – The Axia is not a flimsy cookware set. It is solid with a nice weight to the pieces which borders on heavy for some compared to thinner non stick cookware.
The cons are:
Thin handles – Some buyers complained that the handles are too thin for a secure grip, especially when the pots are full with food.
Stains – The pots and pans can be difficult to clean when food get stuck which is common for stainless steel cookware. Stains and discoloration can also mar the look of the cookware.
Lagostina Martellata Review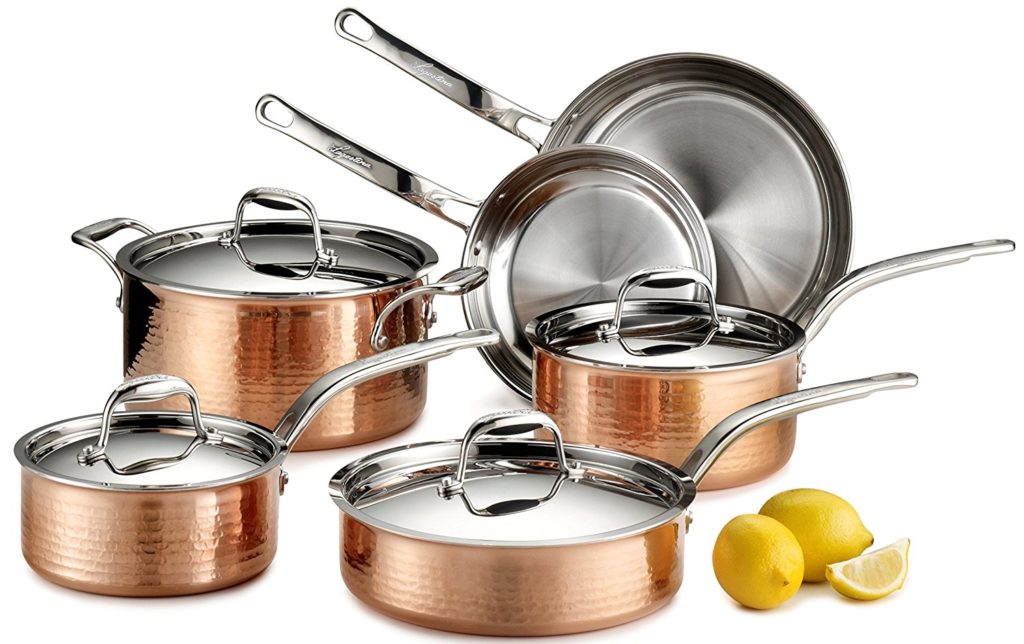 The Lagostina Martellata comes in 2 versions – stainless steel and stainless steel copper. Shown above is the copper version with a 10-piece set with these pieces:
8-inch skillet
10-inch skillet
2-quart saucepan with lid
3-quart saucepan with lid
3-quart deep sauté pan with lid
6-quart stockpot with lid
==> Check Price
Like the Axia, it is a tri-ply cookware with a thick aluminum core. The interior is 18/10 stainless steel. The exterior has a hammered finish which gives it a touch of elegance and beauty. One has a hammered stainless steel exterior while the other has a hammered copper exterior. The copper version is slightly more expensive and copper as an element has better heat control and sensitivity compared to stainless steel.
The lids and handles are stainless steel. The edges are flared for dripless pouring. Both versions are oven and broiler safe to 500°F but only the stainless steel one is an induction cookware. The Lagostina Martellata Hammered Stainless Steel Copper cookware is not induction compatible.
The Pros And Cons Of The Lagostina Martellata
The pros are:
Looks beautiful – The hammered exterior is not often found in cookware pieces. The Lagostina Martellata is an exception rather than the norm. So, if you are one of those who like to buy cookware for its beautiful looks, this is one of the ideal choices.
Even heating – The heat conduction surpasses cheap cookware with more even browning and cooking. Cheap pans tend to have hot spots but the Martellata definitely has more efficient heating.
Durable – The cookware feels solid and heavy with less risk of warping. If well-taken care of, the Lagostina Matellata is the type of cookware that can last you decades.
Cheaper than All Clad – Copper cookware can be very expensive. The All Clad Stainless Steel Copper Core cookware set retails for over $1,000. The Martellata costs less than half of that amount which puts it in a more affordable price range for those interested in getting copper cookware.
The cons are:
Maintenance needed – Copper cookware looks beautiful when new. But once you use them, they will turn color and can become ugly to look at. You can revert it to its original color with a copper cleaner but that just means more work and maintenance involved compared to using other types of cookware.
Expensive – While cheaper than All Clad, the price is still higher than many other reputable brands out there including Calphalon and Cuisinart.
Lagostina Vs All Clad
The price difference for Lagostina vs All Clad is a pretty big gap. For their stainless steel cookware which is also induction compatible, you can get the Lagostina Axia for less than $200 at times. But the All Clad Tri-Ply will set you back close to $700 for the 10-piece set at the time of writing.
You need to pay such a big difference because All Clad is made in USA cookware while the Lagostina is made in China. If you care about the manufacturing location, then this would be a major difference between the two brands.
But if you are just looking at price and performance, then the Lagostina is definitely a better value buy. Although the heat conduction for All Clad is superb with low heat variance between the center and sides of the pan, the difference in performance between the 2 cookware brands is too small to justify the large price difference.
Any Great Deals For Lagostina Cookware? Don't Miss Out:

Other Cookware You Might Like: