With the convenience of nonstick cookware, many wouldn't think of making a change until they start to feel uncomfortable about the potential heath hazards that come with flaky pans. That is when people start to look for alternatives. The Lodge 5-Piece Cast Iron cookware set is a great start for that change. If you are serious about wanting to go back to basics, a good old iron cast pots and pans set is definitely worth the small investment.
Lodge 5-Piece Cast Iron Cookware Set Review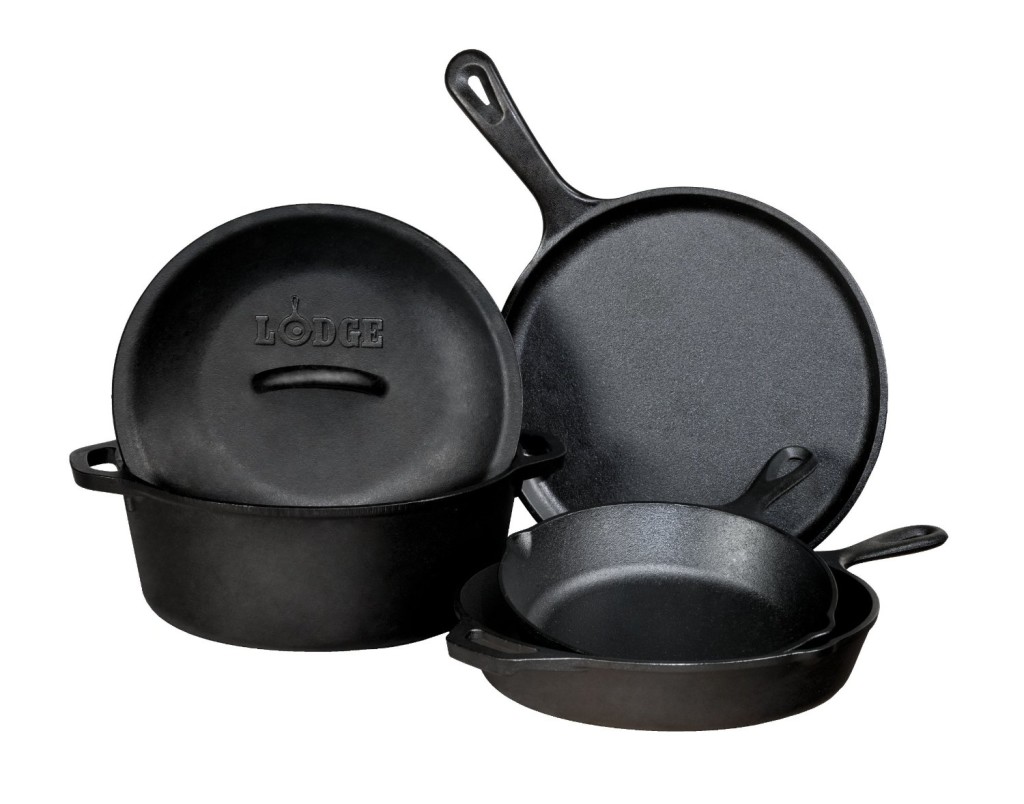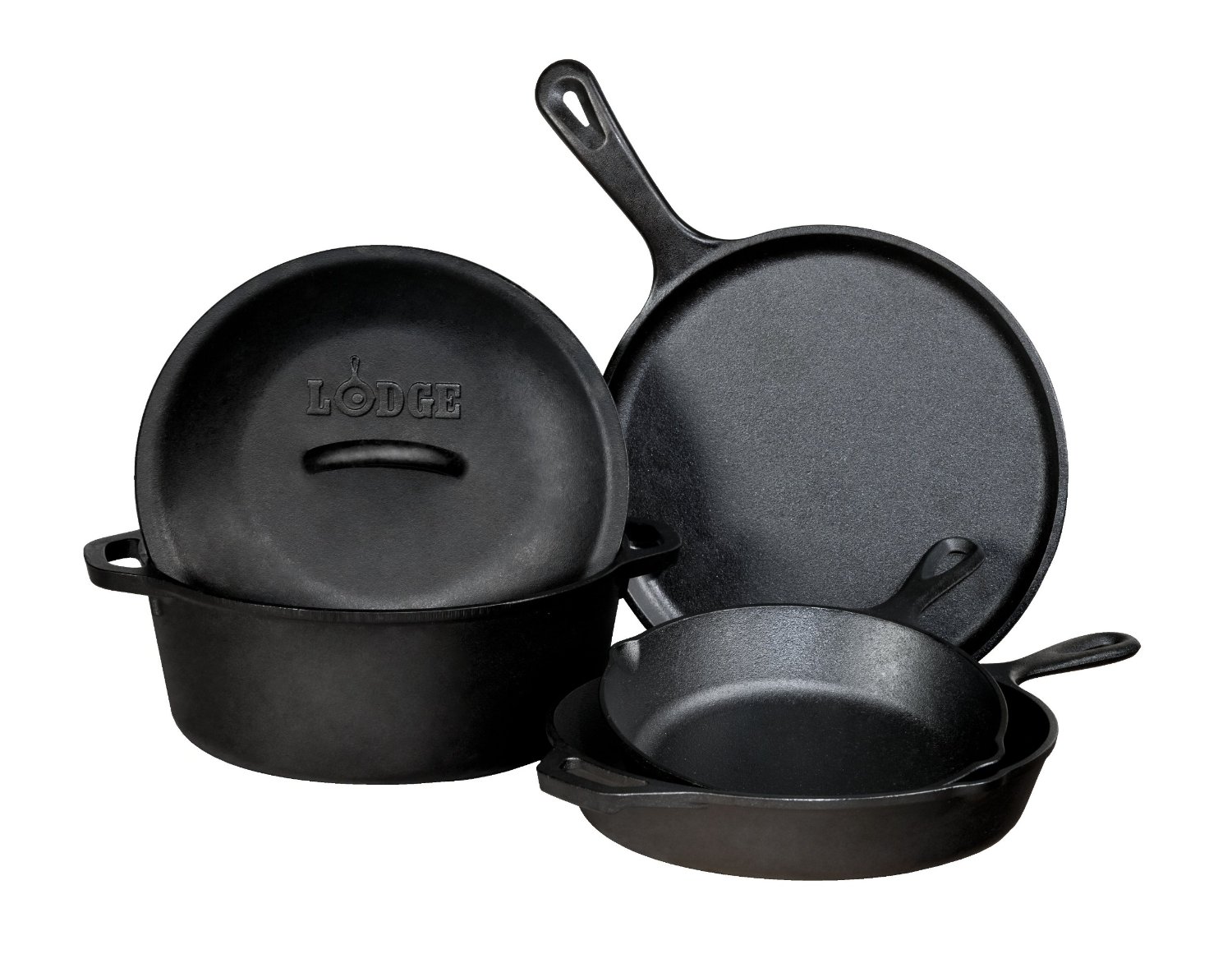 There are not many pieces in this set unlike the usual 10 or 12 pieces bundles that you often find with other types of cookware. But the 5 pieces here are probably the most used items in any kitchen:
10.5-inch round griddle

8-inch skillet

10.25-inch skillet

5-quart Dutch oven

10.25-inch iron cover
The cover fits both the larger skillet and Dutch oven.
=> Check Price
This Lodge Logic 5 piece set has excellent heat retention which makes it perfect for searing meat. The pieces are pre-seasoned and ready to use immediately upon purchase. Lodge cast iron cookware are seasoned using highly refined soy-based vegetable oil. Basically, this thin film of oil is baked on to the pieces using high temperature to create a natural coating that is slick to easily release food from the cooking surface.
Hand wash is recommended for the pieces and they need to be wiped dry immediately after washing. Rubbing a little vegetable oil onto the pieces afterwards is also advisable so that food is less likely to stick when they are used again later. The short video below will show you what needs to be done when it comes to cleaning up:
Should You Buy The Lodge Logic 5-Piece Cast Iron Cookware Set?
Pros
Price – The cost of this cast iron cookware set is much lower than what you would typically need to pay for top range brands like All Clad. Yes, the materials are different between a cast iron and stainless steel cookware, but if you are on a tight budget and need something that is solid and durable, cast iron is the way to go.
Durable – The pieces are thick and heavy and virtually indestructible. Unlike nonstick pots and pans that need to be replaced every few years or even months, the Lodge Cast Iron cookware will last you decades, if properly taken care of. And the beauty of cast iron pieces is they get better with age.
American made – Not many cookware now can claim to be American made. Even other cast iron sets like the Universal Housewares skillets are made in China. Unless you are willing to pay a high price for a cookware set (think All Clad), you will need to settle for Chinese made pots and pans. So, this Lodge cookware set is a nice change. Affordable, but still made in the USA.
Easy to use – If seasoned correctly, food will hardly stick to the pans. Some buyers even cook eggs using the Lodge skillets and many feel that food also comes out tastier. The heat retention is also better than other types of cookware that you can use a lower heat setting which minimizes the risk of having burnt food.
Cons
Heavy – Cast iron cookware is heavy. This Lodge 5-piece set has a shipping weight of 27 pounds, which is typically what a 12 to 17-piece nonstick and stainless steel set would weigh. For example, the Simply Calphalon Nonstick 10-Piece set weighs only 19 pounds for shipping and it is double the number of pieces of this Lodge bundle. This should give you an idea of how much heavier the Lodge pieces are compared to other types of cookware.
Can rust – Maintenance is required for cast iron pieces. You will need to re-season the cookware periodically and avoid leaving it wet to avoid rust. And once it shows signs of rusting, you will need to use some elbow grease to give a a good scrub and re-season immediately.
Rough interior – Some buyers have complained that the interior surface is a little rough because it is not properly sanded. Hence, you might need to do it yourself and re-season for a smoother surface to better prevent food from sticking.
If you are unsure if cast iron cookware is for you, try out with a single piece first. The Lodge Pre-Season Skillet is a good start to see if you like the feel of a heavier piece in your hands and if the maintenance is bearable given your preference and lifestyle. And if you don't like the dull dark shade of these pieces, the porcelain enameled Lodge Color Dutch Oven is a nice change with its more vibrant colors.
Cast iron cookware tend to scare people off with their high maintenance routine but for many people who have dared to take the plunge, they wouldn't want to use anything else afterwards. I would say give the Lodge cast iron cookware a try simply because the price is low enough to justify a buy for a healthier option and it will last a lifetime that you have little to lose.
Free Shipping For The Lodge Logic Cookware? Don't Miss Out:

Other Cookware You Might Like: