If you think stainless steel cookware just isn't stylish enough for your kitchen or is a hassle to clean up, then you would be happy to find enameled porcelain pots and pans to be different in style and use. There are a few popular brands in the market for this category including Rachael Ray and Paula Deen. Now, there is another player in the market and the Pioneer Woman Cookware Set review below will allow us to take a closer look at this later entrant.
Pioneer Woman Cookware Set Review : 10-Piece Set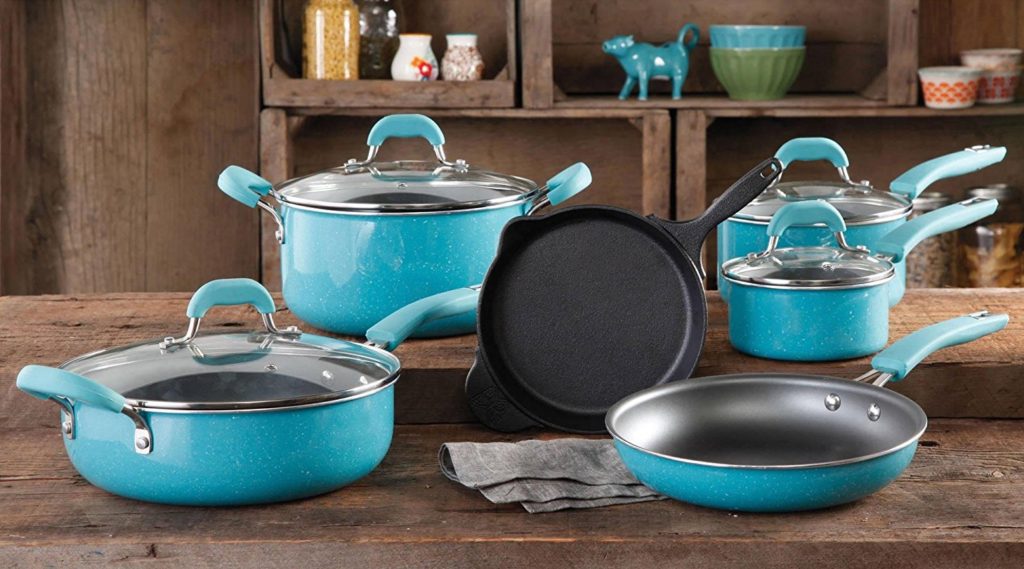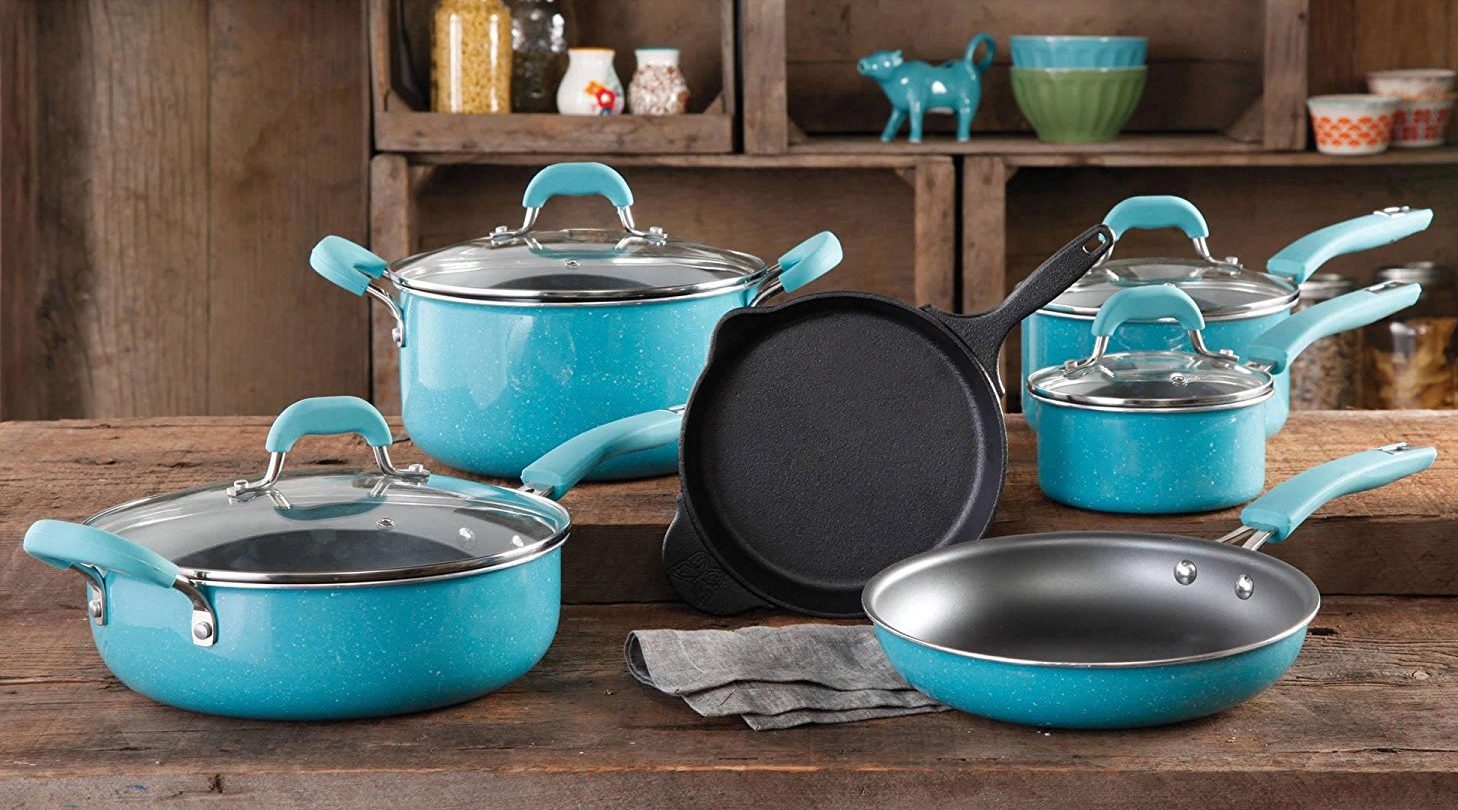 While there are individual pieces for sale for the Pioneer Woman cookware, the 10-piece set is also a popular option due the savings you can get. There are also 20 and 27-piece sets available. However, not everyone will have a need for all of these items which are bundled together to make up the numbers for these large sets. Hence, the 10-piece set is still the most practical and the items included are:
8-inch pre-seasoned cast iron frying pan

9.5-inch frying pan

1.1-quart saucepan with lid

2.5-quart saucepan with lid

5.5-quart Dutch oven with lid

4.2 -quart jumbo cooker with lid
==> Check Price For Pioneer Woman
This is available in a few colors including black, linen, red and turquoise with a vintage speckle design. The 20 and 27-piece sets will have additional items like baking pan, cookie sheet, bowls and utensils.
The main difference between the 10-piece Pioneer Woman cookware set and its competitors is the inclusion of a cast iron frying pan. You won't find this with the Rachael Ray Cucina or Paula Deen Savannah cookware sets.
Apart from the cast iron pan, the rest of the cookware pieces have a nonstick interior. The external coating is porcelain enamel. The construction is aluminum which is common for these type of cookware. You want it to be lightweight and conduct heat well for less hot spots and a faster heat up time.
The silicone handles are riveted with stainless steel brackets. Silicone handles are heat resistant for a cooler touch while cooking. The lids are made of tempered glass. The cookware is dishwasher and oven safe up to 400°F. However, it is not designed for induction cooktops.
Pioneer Woman vs Rachael Ray Cookware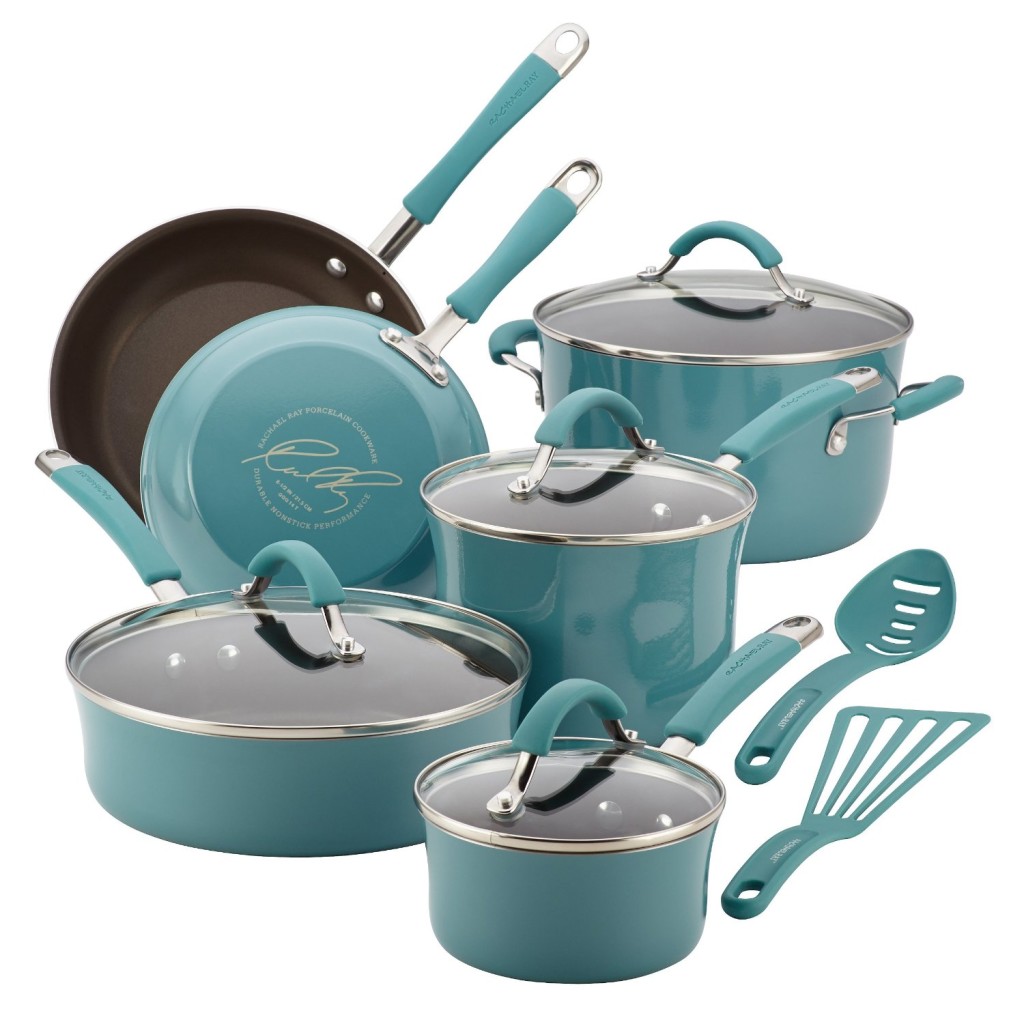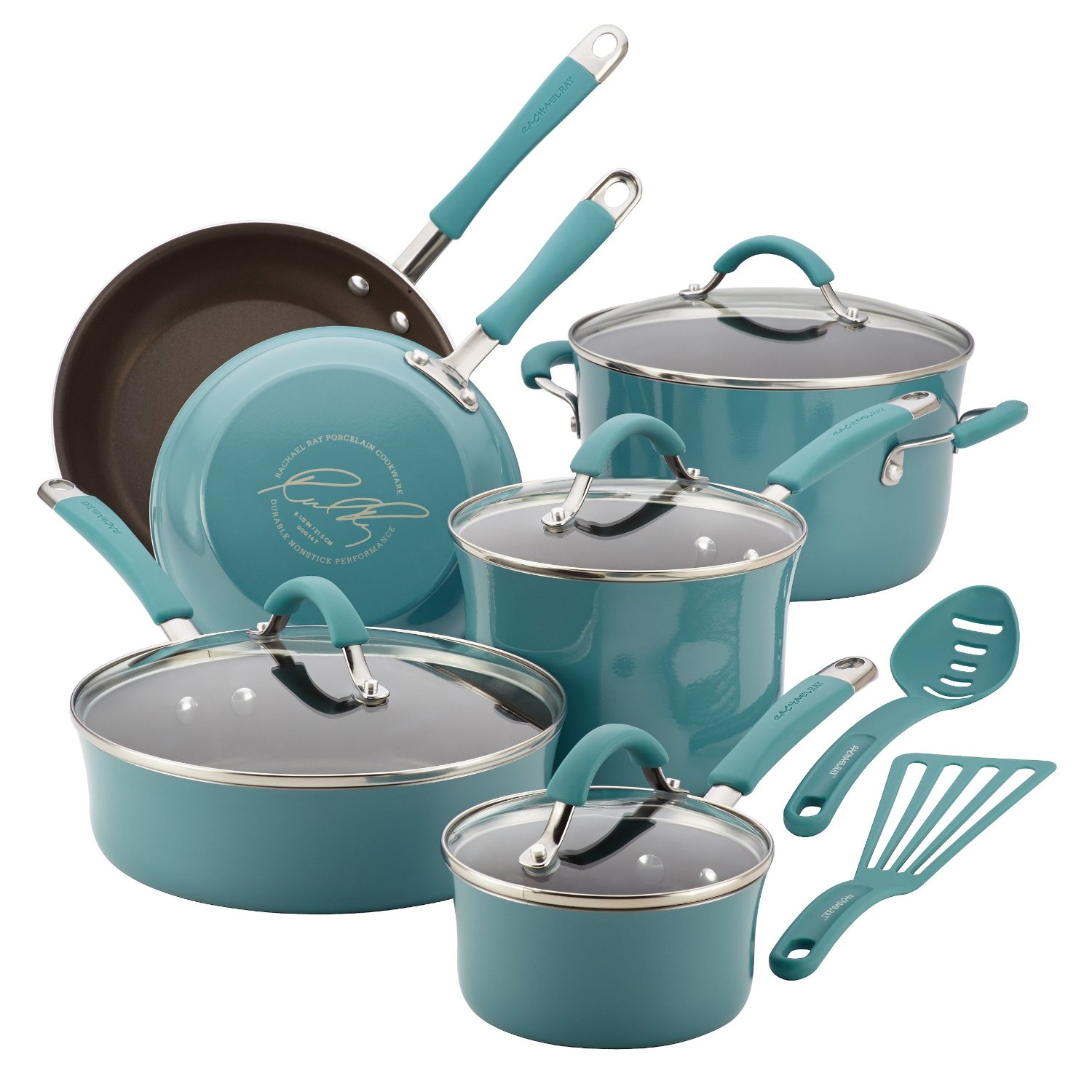 ==> Check Price For Rachael Ray
If we are to take the Pioneer Woman Vintage Speckle 10-piece set and the Rachael Ray Cucina 12-piece set as comparison, which will give us better value for money.
| | Pioneer Woman | Rachael Ray |
| --- | --- | --- |
| Cast Iron Fry Pan | 8-inch | X |
| Small Fry Pan | X | 8.5-inch |
| Big Fry Pan | 9.5-inch | 10-inch |
| Small Saucepan | 1.1-quart | 1-quart |
| Big Saucepan | 2.5-quart | 3-quart |
| Saute Pan | X | 3.5-quart |
| Jumbo Cooker | 4.2-quart | X |
| Stockpot | X | 6-quart |
| Dutch Oven | 5.5-quart | X |
| Utensils | X | Slotted Turner, Spoon |
Basically, both are constructed of aluminum with porcelain enamel exterior coating and nonstick properties for its interior cooking surface. Both are not metal utensil safe which means the coating quality is more or less the same rather than reinforced for stronger abrasion resistant capability.
Both also enjoy similar rating on Amazon with compliments outweighing brickbats. However, Rachael Ray cookware has been in the market far longer and the number of customer reviews are also much higher. It has been able to maintain its high rating thus far which, perhaps, gives greater comfort compared to Pioneer Woman which is a later entrant to the cookware market.
In terms of performance, design and even weight, they are very similar. They also have their fair share of durability complaints. So, given their similarity, Pioneer Woman vs Rachael Ray cookware boils down to the price and what is on offer. If you are buying a set and have a specific need for certain pots and pans, then the decision is pretty clear. You choose the one that suits your needs best. If not, get the set which will give you better value for money.
At the time of writing, the Rachael Ray cookware set is cheaper by about $10 or so. However, it also has 2 additional pieces thrown in with certain items having a larger capacity. Even their frying pans are retailing at a lower price compared to Pioneer Woman. For some individual items, the price differential can be as large as 30% to 40%.
Should You Buy The Pioneer Woman Cookware
Pros
Cast iron pan – This is a unique inclusion in a set of nonstick cookware. The good thing is it adds variety to the type of cookware that you have in your kitchen. We have not come across any other nonstick or ceramic cookware set with a cast iron pan thrown into the mix.
Looks beautiful – This is typical of porcelain enamel cookware. The Pioneer Woman pots and pans are no different. They will look beautiful in your kitchen with a few colors to choose from to match your decor.
Nothing sticks – The nonstick coating does its job well and food like eggs will not stick to the pan. It will be very easy to use and clean when the cookware is new. The problem lies in the durability of the coating which is what many users tend to complain about.
Easy to lift – The handles stay cool under on the stove and they are comfortable to hold. The nonstick pots and pans are also lightweight which makes it ideal for daily use.
Cons
Surface gets scratched – There have been quite a number of complaints that the cooking surface gets scratched easily although only wooden and silicone utensils are used. If you want a longer lasting nonstick surface, the Circulon Elite seems like a better bet with a stronger 3-layer coating.
Color fades – Some buyers have colors fading on their pans and the bottom having burnt marks after a few uses.
Tendency to warp – Because the pieces are light, the cookware is on the thin side. As such, the tendency to warp is also higher compared to solid stainless steel cookware.
To us, a porcelain enamel cookware is only good for the looks. The durability is always a concern. If you are interested in nonstick cookware, there are many cheaper options like T Fal Metallics or WearEver Pure Living with its ceramic coating. In fact, many ceramic cookware now also has a colorful look that are comparable to porcelain enamel.
So, for this Pioneer Woman cookware review, we are not too keen to recommend a buy. The cast iron pan is a nice addition but you can also buy a Lodge cast iron skillet for less than $20. In terms of Pioneer Woman vs Lodge cast iron cookware, the place of manufacture will already sway many to buy Lodge as it is American made cookware. Thus, we think it is better to give the Pioneer Woman cookware a miss for now until the price is a little bit cheaper to compensate for the durability risk.
Any Free Shipping For Pioneer Woman Cookware? Find Out Now:

Other Cookware You Might Like: