Rachael Ray cookware tend to be trendy and colorful. The Cucina line is no different. The color options are there to suit a stylish kitchen and most people will be happy with its appearance. But is appearance the only good thing about this cookware? Most importantly, does the cookware set performs up to expectations? Let's find out how this product fares among users in this review.
Rachael Ray Cucina Cookware Set Review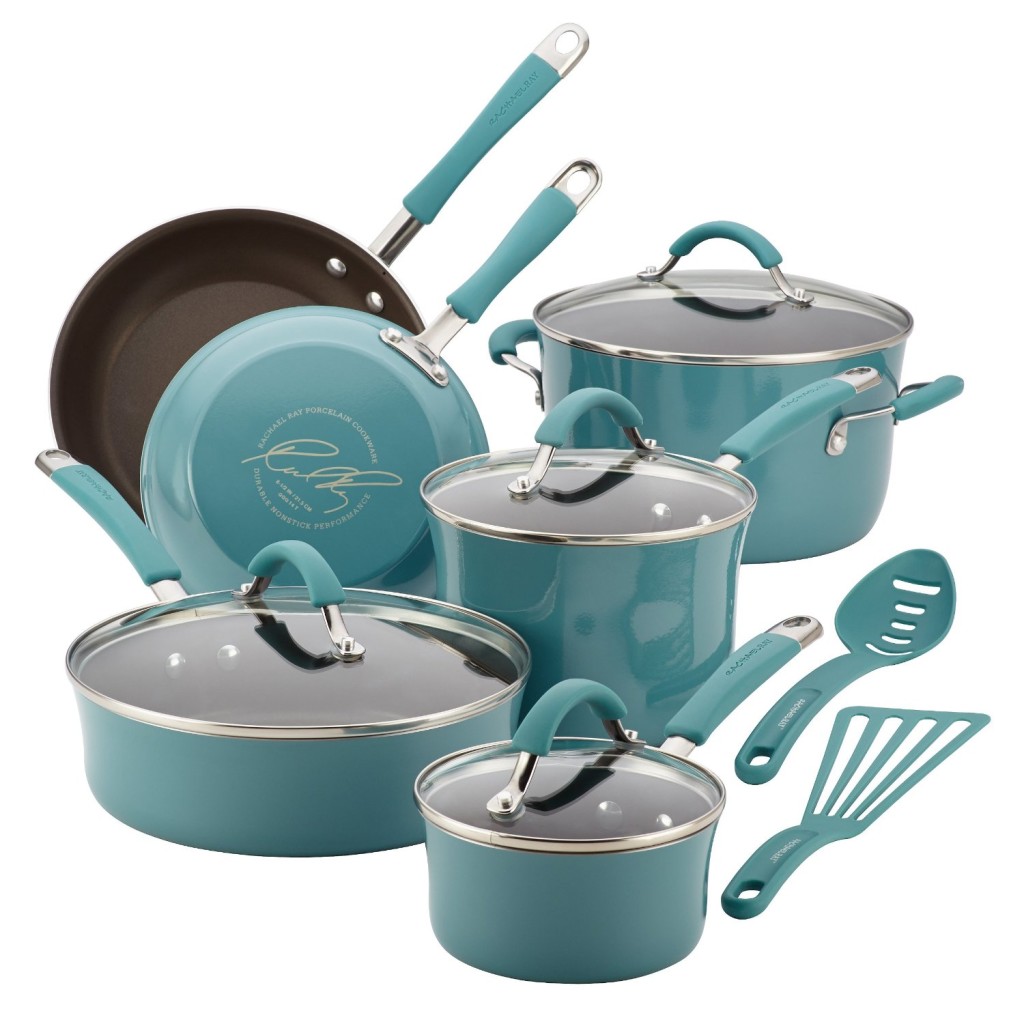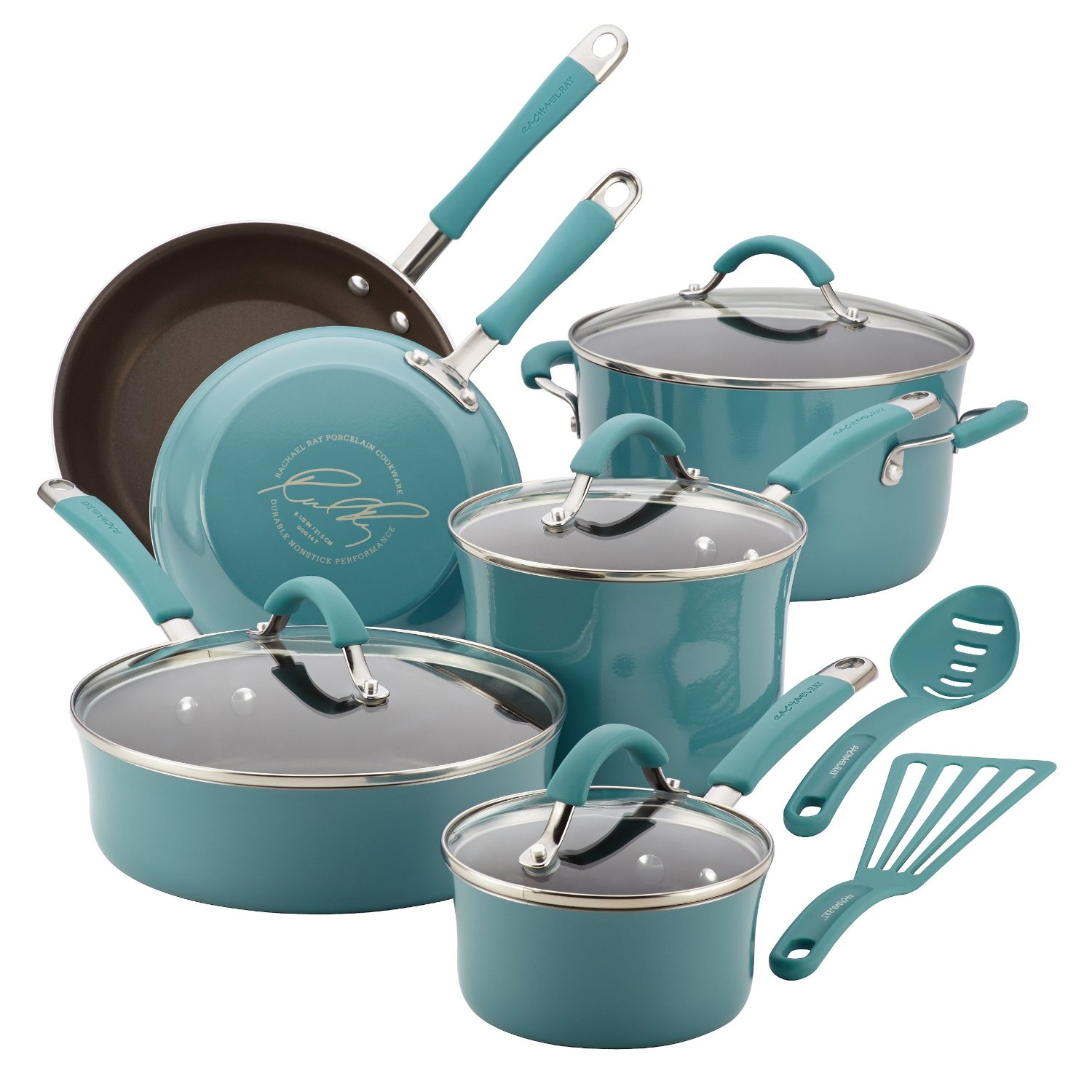 Under review here is the Cucina 12-piece cookware set:
1-quart covered saucepan
3-quart covered saucepan
3-quart covered saute pan
6-quart covered stockpot
8.5-inch skillet
10-inch skillet
Slotted turner
Spoon
==> Check Price
The Rachael Ray Cucina is a nonstick cookware. The interior is coated with a PFOA-free nonstick coating for easy release of food. The exterior is covered with sturdy hard enamel porcelain with various color options, including agave blue, cranberry red, mushroom brown and pumpkin orange. They have earthly tones with a rustic modern design in appearance overall.
The construction of the pieces are aluminum, chosen obviously because of its heat conductivity. Aluminum is known to provide fast and even heating at an affordable price which is why is it popularly used in cookware construction.
The Cucina also has stainless steel handles which are double riveted to the pots and pans. For a more comfortable grip and to ensure it is cool to the touch during cooking, the handles are also covered with a layer of rubber with a color that matches the body of the pieces. They also have an eyelet towards the end for hanging. The lids are made of shatter-resistant glass. Included in the set are 2 nylon kitchen tools, namely a slotted turner and spoon.
The cookware is oven-safe up to 400°F but are not suitable for induction stovetops. Neither can they be put into the dishwasher.
Should You Buy The Rachael Ray Cucina?
Pros
Attractive – Style and design are always part of the selling points for porcelain enamel cookware. For the Rachael Ray Cucina cookware, the colors are more muted for those who are not so adventurous with bright colors for the kitchen. It also has a single tone unlike the Rachael Ray Hard Enamel Nonstick set which has a two-tone gradient exterior. But the Cucina still retains its charm with its rustic look and it is perfect for display too.
Good for everyday cooking – The pieces are good enough for daily use. They are easy to handle with their lightness (the whole set weighs about 18 lbs) with sturdy rubberized handles that are comfortable to grip. The interior is also easy to clean after cooking. Another cookware set that is just as light is the Paula Deen Signature collection.
Flared rim – With a flared rim, it is easier to pour liquid out of the saucepans. It leaves less mess and minimize drips.
Handles stay cool – The rubberized handles are good enough to eliminate the need for pot holders.
Food does not stick – You can fry omelette in the pan with no problem of stickiness. The nonstick coating works very well to release food ensuring cooking is smooth and easy.
Cons
Thin – The aluminum is thin that the pieces can easily warp. You will need extra care to prevent dents too.
Poor quality utensils – Many customers have complained that the slotted turner and spoon are of poor quality. For the price, they should be better made rather than feel like they can be picked up at the dollar store.
Durability is suspect – The thinness of the construction means durability could be an issue for the pots and pans. The coating is also susceptible to scratches as a few customers have noted.
The Rachael Ray Cucina cookware is not great but neither is it that bad either. It is an in-between set that you could buy for its appearance and everyday use. But it is not a set that you would expect it to last long either.
Therefore, it does not have the superior quality associated with the price. Selling for nearly $150 at the time of this review, there are many nonstick cookware sets that you could consider at this price point. Ceramic cookware like the WearEver Pure Living set sells for less while even a nonstick hard anodized set like the T Fal Signature costs $70 less.
In summary, there is a premium to be paid for the trendiness of a porcelain enamel cookware set like this Rachael Ray Cucina. Buy it for the looks but don't expect anything extra because the quality is no different than other Teflon cookware in the $80 to $100 range.
Free Shipping For The Rachael Ray Cucina? Don't Miss Out:

Other Cookware You Might Like: