Rachael Ray cookware have always been stylish with its modern design and colors. The Rachael Ray Hard Anodized II cookware set is no different with its orange handles to distinguish it from the usual black pieces. It does sell at a premium though, compared to say, the T Fal Ultimate Hard Anodized set. In a way, it is perfect for those who like both practicality and style for their cookware. There are people who like to display their pots and pans in the kitchen rather than have them hidden in the cabinet. As such, there will always be a market for colorful and stylish cookware sets.
Rachael Ray Hard Anodized II Cookware Review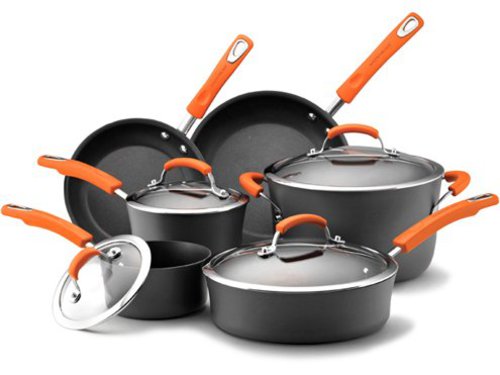 The set comprises the following pots and pans:
1-quart saucepan with lid

2-quart saucepan with lid

6-quart stockpot with lid

3-quart saute with lid

8.5-inch skillet

10-inch skillet
Apart from the 10-piece, you can also get this set with 12 or 14 pieces. The 12-piece set includes two carbon steel nonstick baking sheets while the 14-piece bundle has an additional 3-quart covered saucepan and 4-quart covered sauce pot. There is also a difference between the Rachael Ray Hard Anodized I and II cookware sets. The former has a 1.5-quart and 3-quart covered saucepans compared to the 1 and 2-quart pieces in the II package. Hard Anodized II is also dishwasher-safe whereas the earlier model is not.

As the name implies, the pieces have a hard anodized construction that heats up quickly and evenly. The interior is nonstick and the handles are dual riveted to the pieces. They have a rubberized feel for a comfortable and secure grip. The lids are tempered glass and fit snugly to lock in flavor and moisture. The pieces are also oven-safe up to 350°F.
Should You Buy The Rachael Ray Hard Anodized II Nonstick Cookware?
Pros
Stylish – The orange handles is a change from the traditional hard anodized nonstick pieces. It brightens up the cookware and give it a hint of style for a modern kitchen. Another colorful product from the same brand name would be the Rachael Ray Porcelain Hard Enamel cookware.
Nonstick – The nonstick coating releases food with ease and even burnt food scraps are easy to get rid of.
Heats up quickly – The pan heats up very fast. Lower the heat accordingly and you will have fewer problems of burnt food when cooking.
Cons
Light – These are not heirloom pieces. They are on the thin side which is both good and bad. Thin means it is lighter and easier to handle for everyday use. But it also means food can easily get burned if you are not paying attention because it heats up very fast with its aluminum core.
Don't last – A few buyers have complained that the coating doesn't last. Even if care is taken, the coating could peel after a few years of use.
Stains on the exterior – Some have mentioned that the outside is easily stained and the bottom will get scratched which will mar its visual appeal.
If the Rachael Ray Hard Anodized II Nonstick 10-Piece cookware set doesn't have as good a rating, I would probably give this a miss. The reason being you can get something similar for less. These are thin pieces which are similar to the T Fal Signature in terms of weight. But the name attached to this cookware simply gives this better visibility and association with quality.
Therefore, only because of its high buyer rating and compliments that I would take a second look at this set and decide if the additional price is justified. If this is on sale, it is probably be worth it to pick it up. But if the price differential is too great compared to the T Fal products, I would go for the latter which also has good ratings overall. Unless you really like the style of the Rachael Ray cookware with its orange handles or has used it in the past with little complaints, there are definitely other cookware  sets out there at a lesser price but with equally good consumer ratings.
Free Shipping For The Rachael Ray Cookware? Find Out Now:

Other Cookware You Might Like: