A lot of people still prefer to cook with nonstick pots and pans but in recent years, the risk of using Teflon-coated pieces have made many to make a switch to ceramic and other types of nonstick cookware. The Stoneline cookware is one such alternative whereby it is being marketed as a nonstick but healthy substitute to Teflon pans.
Stoneline Cookware Set Review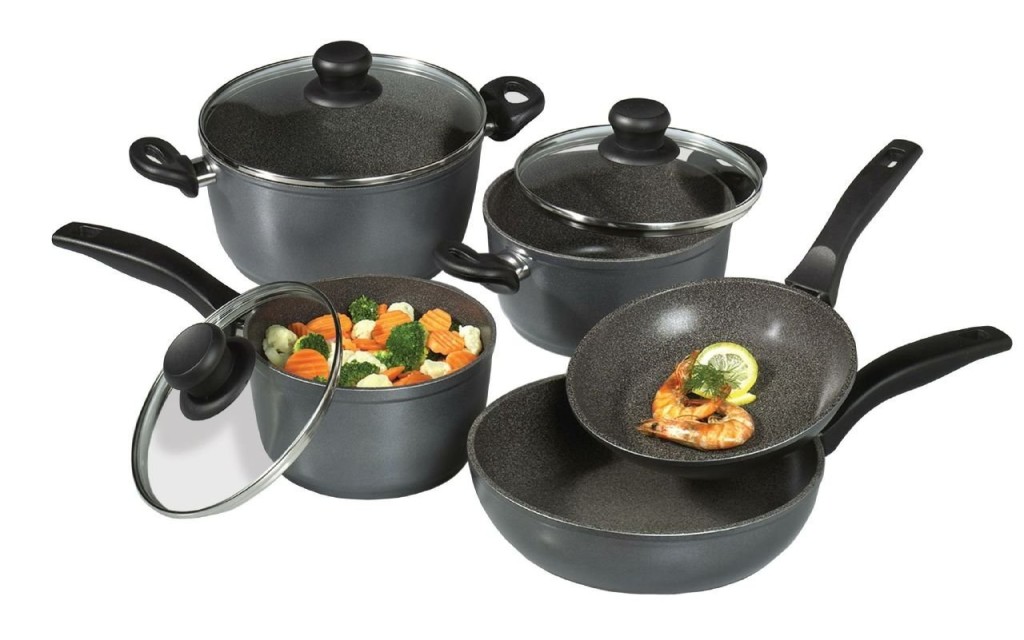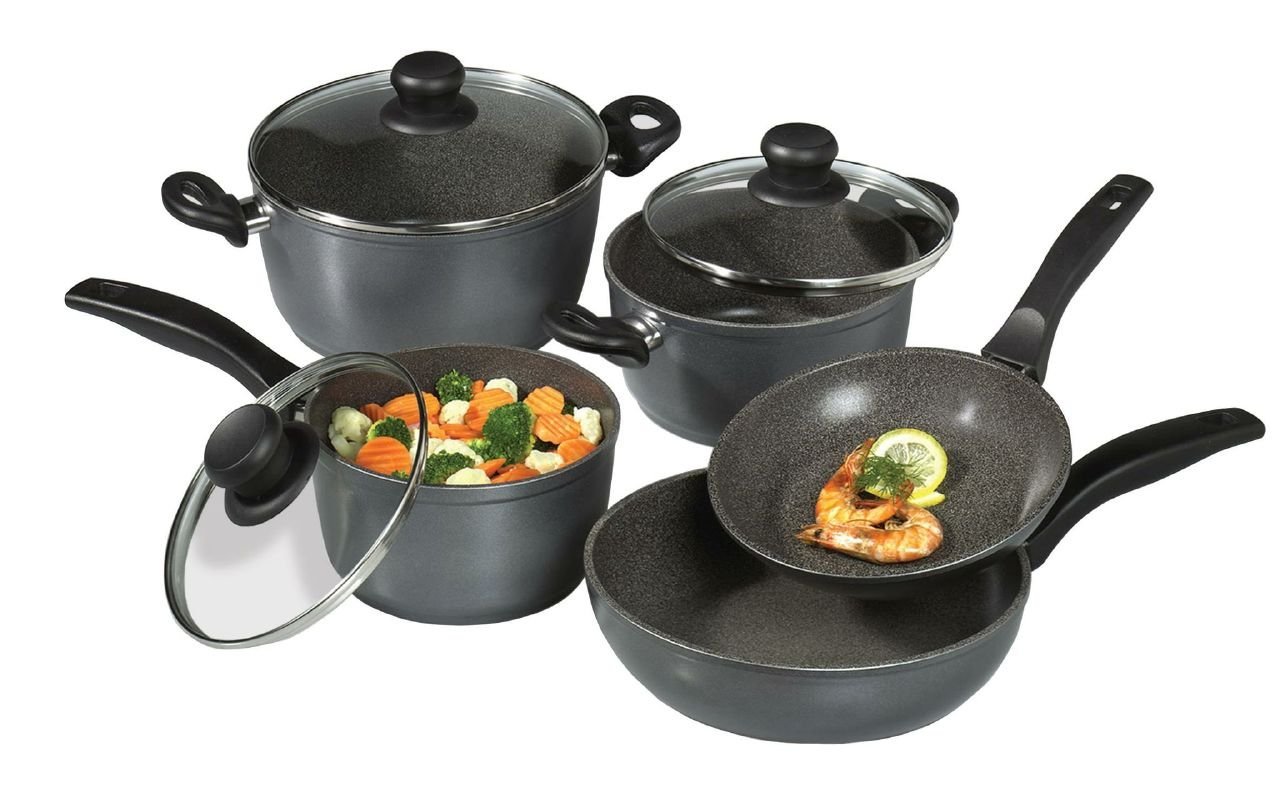 For this Stoneline cookware review, we have picked this 8-piece set for a closer look. The items that are included in the box are:
1-quart covered saucepan
2.6-quart covered cooking pot
4.8-quart covered roasting pot
9.5-inch stewing pan
8-inch frying pan
=> Check Price
The Stoneline cookware is developed in Germany (another product with German technology is the Ozeri Green Earth pan) and its cooking surface is made of crushed particles of rock that are combined with a nonstick element. With this stone micro-coating, it boasts of having a natural hot stone cooking surface which is not only nonstick, but also highly durable and abrasion resistant. It has been claimed that Stoneline is 10 times more durable than traditional nonstick cookware.
The exterior is made of cast aluminum and stainless steel with a thick stainless steel alloy base which makes it suitable for induction stove tops. The lids are glass while the handles are bakelite. Only wooden, silicone and similar utensils are recommended to be used to avoid damage to the interior.
The set is oven safe up to 350°F but it is not dishwasher-safe as harsh detergents can damage the inner coating. You will also need to re-season the pots and pans once they lose the natural nonstick coating over repeated washing with detergents. To re-season, you will need to wipe a layer of hot oil with a paper towel onto the cold cooking surface.
* At the time of writing, an 11-piece knife set is being offered for free when you buy the 8-piece Stoneline nonstick cookware set.
Should You Buy The Stoneline Cookware?
Pros
Does not stick – The cooking surface is nonstick as claimed. Majority of buyers find it easy to clean as food do not stick to the pans. Even when food is burnt, the scraps wash off easily. Most of the time, you can simply use a damp paper towel to clean the pan after cooking.
Healthier – Many buyers have been able to fry eggs and other food in the pans without the need for oil or butter and it doesn't stick. With little to no grease in your cooking, you would be able to enjoy a healthier diet.
Right weight – Although it has a stone component, the pieces are not that heavy with a shipping weight of around 19 pounds which is comparable to the WearEver Pure Living ceramic cookware. The unique stone micro-coating is durable but lightweight.
Cons
Food sticks – A small number of buyers have raised this common complaint of stickiness when it comes to this nonstick cookware. While many find the Stoneline easy to cook with, there are also a few who seems to have food constantly sticking to their pans despite seasoning the pieces as instructed. You may also need to use oil to prevent stickiness contrary to its advertising claims.
Price – The Stoneline cookware is not exactly cheap. Its price is comparable to cookware sets like the Cuisinart Chef's Classic and Emeril Pro-Clad which are trusted well-known brand names in the market. Compared to other non-toxic cookware like the Orgreenic 10-Piece set, the Stoneline 8-piece set is selling for over $100 more at the time of review.
Knives feel flimsy – While being offered for free to entice buyers, a few customers have complained that the knife set feels cheap and flimsy. So, don't make the mistake of buying the set because of the free gift.
The question is do you trust it enough to fork out over $200 for a 8-piece cookware set given that Stoneline is not exactly an old brand name? Furthermore, there are a lot of choices for cookware in the $200 to $300 price range.
However, if you still like cooking with nonstick pots and pans but without the harmful elements, then this is where the choices become a little narrower. Ceramic cookware would still be cheaper as a start (you can get the Cook N Home Ceramic Cookware set for around $70) but the Stoneline would probably last you longer with its more durable interior coating and more solid build. So, the higher cost could be justifiable if nonstick is still what you are after.
Free Gift With The Stoneline Cookware? Don't Miss Out!

Other Cookware You Might Like: