If you want a good quality and more solid pots and pans set, you will definitely need to pay for it. The Woll Diamond Plus cookware set is one of those that belongs to this category. In this review, let us see if the nearly $500 that you need to pay for this 10-piece set is worth every penny spent.
Woll Diamond Plus Cookware Review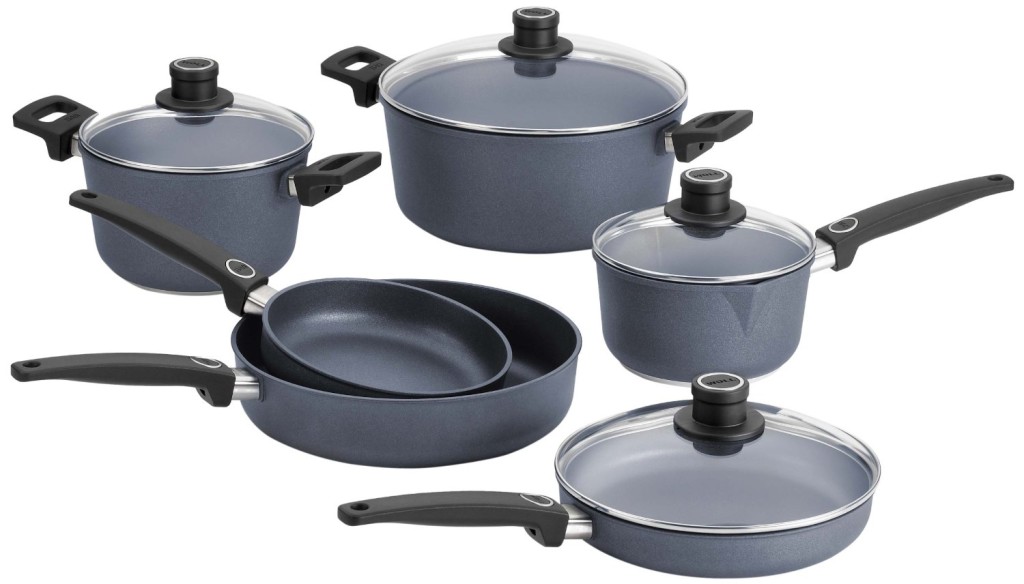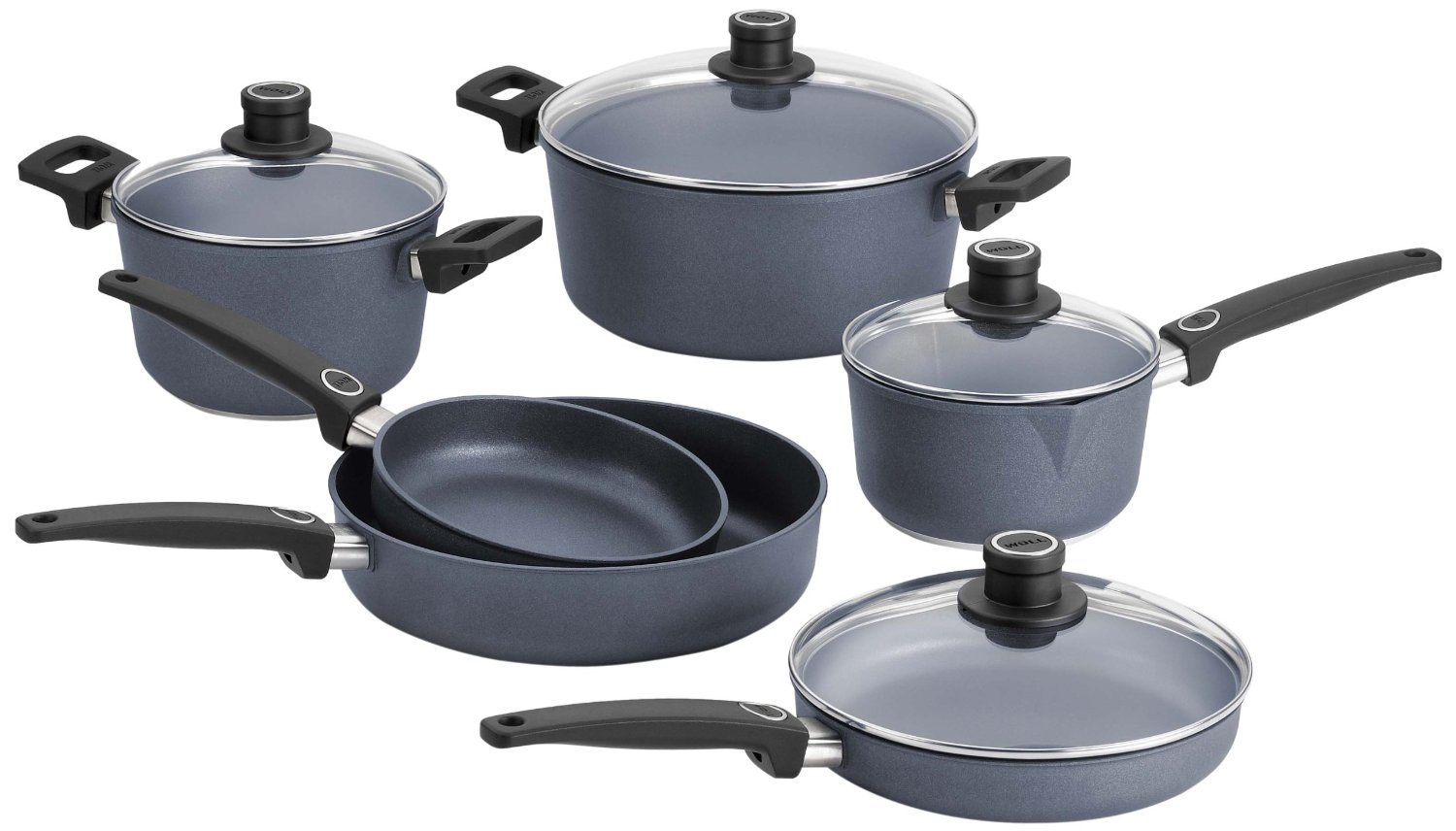 Many people buy the Woll Diamond Plus cookware as individual pieces due to its high costs but you can also get it as a 10-piece set which, of course, will be more economical. For example, the 9.5-inch fry pan alone is retailing at nearly $90 but you can get the whole set for about $500 at the time of review. The 10 pieces are:
2.1-quart covered saucepan
3.2-quart covered saucepan
6.3-quart covered stock pot
3.7-quart covered saute pan (11-inch)
8-inch fry pan
9.5-inch fry Pan
==> Check Price
So, why is the Woll Diamond Plus so expensive? Because it uses an advance technology with an extremely durable nonstick coating embedded with diamond crystals to give you a perfect pan.
With a forge cast aluminum construction and using hand cast technology, the pans are less likely to crack or warp. The base coating is embedded with diamond crystals that gives the hard and cut-resistant properties. The final coating is also reinforced with diamond particles again, baked in at high temperature, to give it an excellent heat and abrasion resistant surface. The manufacturer has claimed that this coating sets the industry standard and is unmatched in the market currently.
Marketed as PFOA-free, the Woll Diamond Plus cookware set is oven-safe to 500°F as well as dishwasher-safe. Given its scratch-resistant interior, it is also being sold as metal utensil-safe. The rims are designed for mess-free pouring and reinforced for impact resistance.
The pieces use an integral, threaded brass insert to secure the ergonomic handles which means no rivets are visible in the interior. Both the cast handles and glass lids are oven-safe up to 250°C or about 480°F.
Woll Diamond Plus pieces are also available with detachable handles for easier storage for those with a small kitchen. However, this set under review here is not suitable for induction cooktops. There is a separate Woll Diamond Plus Induction cookware set for that with a thicker 7.5mm magnetic stainless steel base but, of course, it also has a higher selling price compared to this set here which has a thermal bottom.
Should You Buy The Woll Diamond Plus Cookware Set?
Pros
German made – Nowadays, it is very common for cookware to be made in China. Even major brands have established manufacturing plants in Chinese cities to keep the cost down. And then, you may have cookware with German technology but the actual pots and pans are still made in China. So, the Woll Diamond Plus is a change from that. It is made in Germany using advanced technology with a manufacturing facility that conforms to strict environmental standards.
Heavy duty – The pieces are heavier and more solid compared to other nonstick sets. Not as heavy as a cast iron piece (the Lodge Color 6-quart stock pot weighs about 14 lbs alone), it is still a solid set coming in at 25 lbs for 10 pieces. As comparison, the T Fal Initiatives Ceramic 14-piece set is only about 10 lbs in weight while the Cook N Home Nonstick weighs 16 lbs. So, it is a good compromise for those who don't like using thin cookware but can't lift too heavy ones either.
Durable – Nonstick cookware is not the most durable of all cooking surfaces. Complaints of them lasting only a few short months are not uncommon. But the Woll Diamond Plus has positive reviews on Amazon so far and some buyers have commented that the pans have held up well after more than a year and losing none of its nonstick properties.
No rivets on the inside – Many pots and pans have handles that are riveted to the bodies with the rivets being visible in the interior which creates crevices for sauces to get stuck around them. This set has a completely smooth interior right up to the sides which makes cleaning easy to do.
Cons
Expensive – You have to pay over $100 for one pot and if you are buying the 10-piee set, you will have to fork out close to $500 at the time of this posting. There is certainly a premium for being German made, but you can easily get another nonstick set from other well-known companies like T Fal for about $100. In fact, the 12-piece T Fal Metallics costs you only $80 as at this review date and it also enjoys a good rating on Amazon. Yes, the make and quality are different but the question is whether the much, much higher price is worth every penny paid.
Safety – Many people do not mind paying more to get safe cookware without PFOA and PTFE. The Woll Diamond Plus is being marketed as PFOA-free but nothing is mentioned about it being PTFE-free. This can be an issue for more health-conscious buyers given the high price involved.
To spend $500 on a cookware set without knowing how long it will last is a little too pricey to me. At this price point, I would be looking for at least 5 to 8 years of regular use. For a good stainless steel set like the Calphalon Tri Ply, there is a great chance you can get that kind of durability but for a nonstick set, it certainly carries a higher risk of failure. And that too, at a greater price point (the Calphalon Tri Ply costs about $100 less when I was writing this).
So, would I buy the Woll Diamond Plus 10-piece cookware set? The short answer is no. I don't doubt it is well-made but the cost is simply too high to invest in a whole set without knowing if I will like the feel of it and I will have to take the chance that the coating will stay smooth and nonstick for the next 5 years at least. But if you are really interested in this brand, trying out a single pan that you will use everyday could be the solution before committing such a large sum of money on a whole set.
Free Shipping For The Woll Diamond Plus Cookware? Don't Miss Out:

Other Cookware You Might Like: